Six ways to stop Overthinking.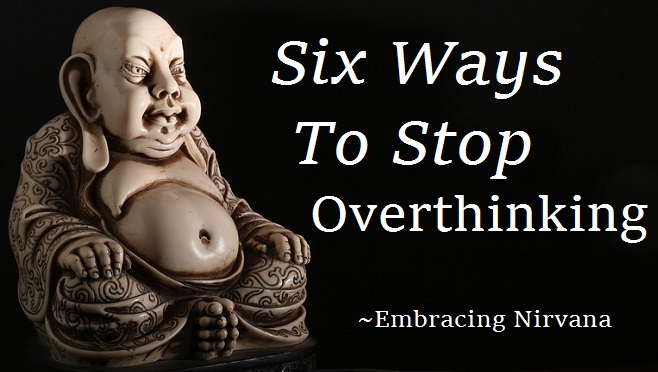 Overthinking is the biggest cause of unhappiness. ~ Buddha
Is overthinking controlling your life?
She told me, "You will never be happy in your life, because you think too much." She was my Thai girlfriend. Was is the operative word here, as she is no longer my girlfriend, but she still wants to be my good friend.

We can still be friends is the kiss of death in any relationship. My overthinking was the cause of the end of our relationship according to her.

Let's be honest, a broken heart is the worst pain that anybody can endure. We all know an abscess tooth ranks a close second, but a broken heart inflicts pain upon us for as long as we allow the pain to consume us.

Overthinking, or over analyzing is human nature. We all think, don't we? It is what makes us human.

Right now there is a voice inside of your head that never stays quiet. If you are thinking now, what voice, I don't hear any voice. That is the voice that I am talking about.

It is the voice of you overthinking. If you do not learn to be mindful of this voice inside of your head, it will bring you many problems in your life.

This voice is often referred to as the Monkey Mind in Buddhist teachings. The monkey mind jumps around from thought to thought often focused on negative memories from the past, and fears of negative outcomes in the future.

Our monkey mind is always churning out thoughts as it randomly analyzes the world around us. It is human nature to believe the worst in many of our thoughts and interactions with the circumstances and events that are going on in our lives.

When we overthink we worry about things that may never happen. This causes us stress and anxiety. Our stress and anxiety will be felt in the pit of our stomach, and lead us to many health problems.

Human beings are inquisitive by nature. Most of the time this is a good thing, but at other times it will fill our heads with unnecessary negative thoughts.

These negative thoughts can cause us heartbreak in our relationships with others, and cause us to inflict pain upon ourselves in our everyday lives as well.

Do you want peace and happiness within you, or do you want to be a victim of an overthinking mind?


How to stop Overthinking, and embrace the state of nirvana:
Know That Past Results Do Not Determine Future Outcomes:
Most of us, except for enlightened monks, or a highly enlightened Anagami, worry about things that may never happen in the future. We also being victims of our monkey minds, relive our past memories, often in a negative way.

When we blend the two together we create the perfect storm to overthink ourselves into a pool of worry, stress, and anxiety. We use our past experiences in order to judge the outcome of present, and future events.

Yes, we should all learn from our Past Mistakes, but we must not think, or believe that the outcome of current or future events will follow the same path as they have before.

We must not allow the outcomes of our past to set a precedent for the rest of our future decisions. We must let go of our past, and be mindful of the present moment.



Be Mindful of the Present:
Being mindful of the present means focusing your attention solely on what you are doing right now. When you wake up in the morning and jump in the shower to get your blood pumping, what are you thinking about?

Are you thinking about sorrow, and depression from your past experiences? Are you thinking about worries about the future?

If you are mindful of the present than you are thinking about the temperature of the water. Is it hot or cold? You can smell the shampoo and soap that you are using to clean and refresh your body.

You can hear the water coming out of the showerhead, and you can hear the remanences of the water, soap, and shampoo being sucked down the drain, as you can visually see the whirlpool spinning around and gathering strength as it disappears down the drain.

Be present in all of your daily activities, and overthinking cannot overcome you. Do not let memories of the past guide your thinking, it is best to forgive, and forget:



Forgive and Forget:
We must forgive others who have caused us harm mentally, physically, and emotionally in the past. The most important person that we need to forgive is of course ourselves.

We have all made mistakes in the past, and all things are impermanent. Nothing lasts forever, so we should not punish ourselves in our own minds, over things that are unimportant or even meaningless in our growth as a person, and in our enlightenment as well.

What is your purpose for existence? Who do you believe you are? Are you here to accumulate material goods? Is your only purpose for existence to experience pleasures of the flesh?

(If this is the case for you than perhaps The Five Precepts, will be beneficial to you. The Five Aggregates will also aid in your enlightenment.)

If your path in life is to embrace nirvana, than you already know about the impermanence of all things. If you are still overthinking things than you still have much to learn before becoming a Sotapanna.

Forgive others, and yourself… Let go of your monkey minds desire to dwell on mistakes made by others, and by you as well… Anatta.
Embrace Your Anxieties and Fears.
The biggest culprits of our overthinking stems from our worries or anxieties, and also from our fears.

We spend an inordinate amount of time contemplating the outcome of future events, this causes us anxiety, which causes us to worry and overthink even more.

Fear also dominates our thinking. We fear the unknown, we fear the past repeating itself, and we fear self-created ideologies grounded in the physical reality that we have become attached to.

If we embrace our anxieties and fears, we can then realize that we are not humans trapped in physical form, and our physical reality is both an illusion, and impermanent.

If everything is composed of atoms, and is just energy, why overthink it? Just accept it, let it go, and move on. Our minds are often focused on physical reality, and therefore thinking non-stop from that viewpoint.

We can refocus our thoughts, and even let them go through meditation.
Meditation:
Meditation begins by stilling our mind and body. Be mindful of your breath. Feel your lungs slowly inhaling air through your nose, and out of your mouth. Your monkey mind will create thoughts in your head as you do this. Acknowledge them, and then let them pass.

Do not attach any emotional response to the thoughts in your head, simply let them drift away in peace, as you redirect your thoughts back to your breathing.

As you become more adept at your meditative practices, your thoughts will no longer come from your monkey mind, but will instead manifest from your calm mind during Hypnagogic Enlightenment acquired through meditation.

Although it is a big step forward we can release ourselves from overthinking by choosing to become a stream enterer or Sotapanna.
Enter the stream to enlightenment, and Embrace Nirvana.
Entering the stream to enlightenment requires you to begin releasing The Ten Fetters. Only when we have released the Ten Fetters that attach us to human existence are we able to embrace nirvana.

If we choose to let go of attachment, and be at peace within ourselves, we will have nothing to overthink about.

Overthinking will never solve our problems. Overthinking is like worry, it just keeps us busy doing nothing, and creates new problems where none existed before.
Previous Article:
Is my Enlightenment being tested?


You Might Also Like:
The Three Universal Truths
Samsara
Change is Certain
Buddha Quotes
What is Nirvana
Enlightened T-Shirts
Recommended Reading: