Life Quotes: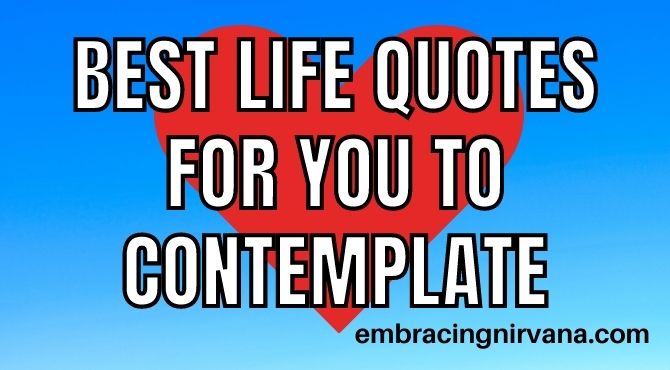 101 Best Life Quotes to Inspire You.
Life is a journey for all of us. We were all born into different families with different circumstances financially and otherwise.

We all have our own unique challenges and lessons to learn in life, but we are all on this journey called life together. Let's make the best of it.
Embracing Nirvana is reader-supported. When you buy through links on our site, we may earn an affiliate commission. As an Amazon Associate, I earn from qualifying purchases. Affiliate Disclosure
Here are 101 Life Quotes for you to contemplate.
1: "To live is the rarest thing in the world. Most people exist, that is all." ~Oscar Wilde

2: "Don't part with your illusions. When they are gone you may still exist, but you have ceased to live." ~ Mark Twain

3: "Stop giving your life away to other people." ~Steve Maraboli

4: "Get busy living or get busy dying." ~Stephen King

5: "A good traveler has no fixed plans and is not intent on arriving." ~Lao Tzu

6: "Never be bullied into silence. Never allow yourself to be made a victim. Accept no one's definition of your life, but define yourself." ~Harvey Fierstein

7: "How people treat you is their karma; how you react is yours." ~Wayne W. Dyer

8: "You only live once, but if you do it right, once is enough." ~Mae West

9: "Many people die at twenty-five and aren't buried until they are seventy-five." ~Benjamin Franklin

10: "Who are you to judge the life I live? I know I'm not perfect, and I don't live to be, but before you start pointing fingers... make sure your hands are clean!" ~Bob Marley

11: "The more I live, the more I learn. The more I learn, the more I realize, the less I know." ~Michel Legrand

12: "This didn't happen to me, if happened for me." ~Sean Stephenson

13: "I'm not afraid to make mistakes, that's why my life rocks!" – Sean Stephenson

Embrace Nirvana Buddha Shirt
14: "If you have nothing in life but a good friend, you're rich." ~Michelle Kwan

15: "Pull up a chair. Take a taste. Come join us. Life is so endlessly delicious." ~Ruth Reichl

16: "Sometimes the hardest part isn't letting go but rather learning to start over." ~Nicole Sobon

17: "In three words I can sum up everything I've learned about life: it goes on." ~Robert Frost

18: "Don't ask for guarantees. And don't look to be saved in any one thing, person, machine, or library. Do your own bit of saving, and if you drown, at least die knowing you were heading for shore." ~Ray Bradbury

19: "To choose doubt as a philosophy of life is akin to choosing immobility as a means of transportation." ~Yann Martel

20: "Letting go means to come to the realization that some people are a part of your history, but not a part of your destiny." ~Steve Maraboli

21: "Maybe this world is another planet's hell." ~Aldous Huxley

22: "May you live every day of your life." ~Jonathan Swift

23: "Do not take life too seriously. You will never get out of it alive." ~Elbert Hubbard

24: "The more you feed your mind with positive thoughts, the more you can attract great things into your life." ~Roy T. Bennett

25: "If you have a heartbeat, there's still time for your dreams." ~Sean Stephenson

26: "Work harder on yourself than you do on your job." ~Jim Rohn

27: "It does not do to dwell on dreams and forget to live." ~J.K. Rowling

28: "We're all human, aren't we? Every human life is worth the same, and worth saving." ~J.K. Rowling

29: "It is important that we forgive ourselves for making mistakes. We need to learn from our errors and move on." ~Steve Maraboli
30: "The world is a prison in which solitary confinement is preferable." ~Karl Kraus

31: "I believe in being strong when everything seems to be going wrong. I believe that happy girls are the prettiest girls. I believe that tomorrow is another day, and I believe in miracles" ~Audrey Hepburn

32: "There is no loss, if you cannot remember what you have lost." ~Claire North

33: "Whenever something bad happens, keep calm, take a few deep breaths and shift the focus to something positive." ~Roy T. Bennett

34: "Life is what happens to us while we are making other plans." ~Allen Saunders

35: "You never change your life until you step out of your comfort zone; change begins at the end of your comfort zone." ~Roy T. Bennett

36: "The trouble with being in the rat race is that even if you win, you're still a rat." ~Lily Tomlin

37: "That it will never come again is what makes life so sweet." ~ Emily Dickinson

38: "The problem with people is they forget that most of the time it's the small things that count." ~Jennifer Niven

39: "I live in my own little world. But its ok, they know me here." ~Lauren Myracle

40: "I'm the one that's got to die when it's time for me to die, so let me live my life the way I want to." ~Jimi Hendrix

41: "I can see how it might be possible for a man to look down upon the earth and be an atheist, but I cannot conceive how a man could look up into the heavens and say there is no God." ~Abraham Lincoln

42: "I believe there is another world waiting for us. A better world. And I'll be waiting for you there." ~David Mitchell

43: "All I know is I make sense to me- it's other people who seem complicated." ~Tara Kelly

44: "Throughout life people will make you mad, disrespect you and treat you bad. Let God deal with the things they do, cause hate in your heart will consume you too." ~Will Smith
45: "Believe something and the Universe is on its way to being changed. Because you've changed, by believing. Once you've changed, other things start to follow. Isn't that the way it works?" ~Diane Duane

46: "Life is like riding a bicycle. To keep your balance, you must keep moving." ~Albert Einstein

47: "Better to die fighting for freedom then be a prisoner all the days of your life." ~Bob Marley

48: "Appear weak when you are strong, and strong when you are weak." ~Sun Tzu

49: "Choose the words you say to yourself wisely, they are creating your reality." ~Sean Stephenson

50: "You cannot control the behavior of others, but you can always choose how you respond to it." ~Roy T. Bennett

51: "The biggest adventure you can ever take is to live the life of your dreams." ~Oprah Winfrey

52: "Life has become immeasurably better since I have been forced to stop taking it seriously." ~Hunter S. Thompson

53: "Very occasionally, if you pay really close attention, life doesn't suck." ~Joss Whedon

54: "This life's hard, but it's harder if you're stupid." ~George V. Higgins

55: "We cannot change the cards we are dealt, just how we play the hand." ~Randy Pausch

56: "Be thankful for what you have; you'll end up having more. If you concentrate on what you don't have, you will never, ever have enough" ~Oprah Winfrey

57: "Life is like a novel. It's filled with suspense. You have no idea what is going to happen until you turn the page." ~Sidney Sheldon

58: "I may not have gone where I intended to go, but I think I have ended up where I needed to be." ~Douglas Adams

59: "Scar tissue is stronger than regular tissue. Realize the strength, move on." ~Henry Rollins
60: "Sometimes the right thing feels all wrong until it is over and done with." ~Alice Hoffman

61: "The past has no power over the present moment." ~Eckhart Tolle

62: "You realize that our mistrust of the future makes it hard to give up the past." ~Chuck Palahniuk

63: "The two most important days in your life are the day you are born and the day you find out why." ~Mark Twain

64: "Life isn't about finding yourself. Life is about creating yourself." ~George Bernard Shaw

65: "A life spent making mistakes is not only more honorable, but more useful than a life spent doing nothing." ~George Bernard Shaw

66: "It does not matter how slowly you go as long as you do not stop." ~Confucius

67: "Too many people spend money they haven't earned, to buy things they don't want, to impress people that they don't like." ~Will Rogers

68: "So it's true, when all is said and done, grief is the price we pay for love." ~E.A. Bucchianeri

69: "Life ... is a tale. Told by an idiot, full of sound and fury, signifying nothing." ~William Shakespeare

70: "The one you love and the one who loves you are never, ever the same person." ~Chuck Palahniuk

71: "Follow your bliss and the universe will open doors for you where there were only walls." ~Joseph Campbell

72: "Because if you take a risk, you just might find what you're looking for." ~Susane Colasanti

73: "Where there is love there is life." ~Mahatma Gandhi

74: "Time takes it all, whether you want it to or not." ~Stephen King

75: "No matter how much suffering you went through, you never wanted to let go of those memories." ~Haruki Murakami
76: "You've a good heart. Sometimes that's enough to see you safe wherever you go. But mostly, it's not." ~Neil Gaiman

77: "Everything you can imagine is real." ~Pablo Picasso

78: "Everyone you meet is a part of your journey, but not all of them are meant to stay in your life. Some people are just passing through to bring you gifts; either they're blessings or lessons." ~Roy T. Bennett

79: "Every man's life ends the same way. It is only the details of how he lived and how he died that distinguish one man from another." ~Ernest Hemingway

80: "Two possibilities exist: either we are alone in the Universe or we are not. Both are equally terrifying." ~Arthur C. Clarke

81: "We are all connected; To each other, biologically. To the earth, chemically. To the rest of the universe atomically." ~Neil DeGrasse Tyson

82: "When you arise in the morning think of what a privilege it is to be alive, to think, to enjoy, to love." ~Marcus Aurelius

83: "Today you are You, that is truer than true. There is no one alive who is Youer than You." ~Dr. Seuss

84: "There comes a time in your life when you have to choose to turn the page, write another book or simply close it." ~Shannon L. Alder

85: "Pursue what catches your heart, not what catches your eyes." ~Roy T. Bennett

86: "Don't be pushed around by the fears in your mind. Be led by the dreams in your heart." ~Roy T. Bennett

87: "The only way to survive eternity is to be able to appreciate each moment." ~Lauren Kate

88: "The most wasted of all days is one without laughter." ~Nicolas Chamfort

89: "Happiness is not a goal...it's a by-product of a life well lived." ~Eleanor Roosevelt

90: "Things change, and friends leave. Life doesn't stop for anybody." ~Stephen Chbosky
91: "My body is my journal, and my tattoos are my story." ~Johnny Depp

92: "Life is either a daring adventure or nothing at all." ~Helen Keller

93: "Life is to be enjoyed, not endured" ~Gordon B. Hinckley

94: "I envy people that know love. That have someone who takes them as they are." ~ Jess C Scott

95: "There are only two ways to live your life. One is as though nothing is a miracle. The other is as though everything is a miracle." ~Albert Einstein

96: "A man with outward courage dares to die; a man with inner courage dares to live." ~Lao Tzu

97: "My only advice is to stay aware, listen carefully, and yell for help if you need it." ~Judy Blume

98: "You get what anybody gets - you get a lifetime." ~Neil Gaiman

99: "Anyone who lives within their means suffers from a lack of imagination." ~Oscar Wilde

100: "Start each day with a positive thought and a grateful heart." ~Roy T. Bennett

101: "Life isn't as serious as the mind makes it out to be." ~Eckhart Tolle


Come join us on Facebook
Click here...
You Might Also Like:
Best Books About Buddhism
Astral Projection in Buddhism
Samsara
The Monkey Mind
Samskaras
What is Nirvana
Enlightened T-Shirts
Embracing Nirvana is a participant in the Amazon Services LLC Associates Program, an affiliate advertising program designed to provide a means for sites to earn advertising fees by advertising and linking to Amazon.com.

All links on this site are subject to being sponsored content for which we will receive financial compensation.